19th June 2013

Störung releases new single "Attraction" 

The titans of industrial and dark wave music known as Störung have released their newest single, titled, "Attraction." The song is composed and performed in the same powerful, driving noir style that has characterized Störung since their inception in 1981, and is an excellent example of how they have stayed relevant and evocative throughout their storied career.

At the heart of "Attraction," just as at the core of Störung itself, is mastermind songwriter and instrumentalist Eugenius. This latest (and in some ways, greatest) release from Störung is somewhat more intimately personal to Eugenius than some of Störung's music in the past.

"I created this track ,'Attraction,' at a time when I was heavily attracted to a lady," writes Störung's Eugenius. "I mean really attracted, completely over the top. I urgently needed to beat my brain to get some therapy and to regain some control over myself. That is the reason for creating the track."

The music is not, however, a serenade, nor does it sound like romance. Rather, it is the essence of wild passion boiled down to a thick, potent audio experience. Its drums are like the irascible, relentless pistons of a gigantic machine, its guitars like a set of charging waves that wash over and around the listener in floods of sonic heat. Eugenius' real-life attraction inspired it all, including an official music video.

That's why you hear this pulsing, bombing beat," he explains, "and see a rather annoying video as some sort of shout out. The amount of energy you are exposed to when listening and viewing the track is generated from a real, personal experience. May it be with you prior to losing your head!"

Listeners can lose their heads over "Attraction" by Störung beginning late spring / early summer of 2013 when it goes online worldwide.

Sean McCauley
Sr. Staff Writer
MondoTunes

The single "Attraction" is distributed globally by MondoTunes (www.MondoTunes.com) and is available at iTunes for convenient purchase and download.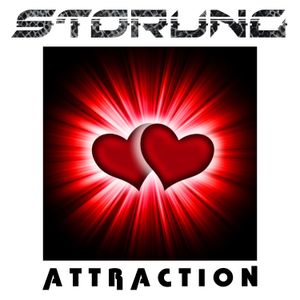 10th April 2013

Störung Releases New Single "Circus Time" Feat. Sadhana Lila

European industrial and cold wave rock band Störung has returned with a surprise new release, "Circus Time." The song is written in the same dark, explosive vein for which fans have come to revere them, and features the added talents of singer-songwriter Sadhana Lila. The release comes more than 30 years after Störung first walked onstage in 1981, and proves that while the industrial music scene may have aged in that time, the driving, dance-inspiring sound of Störung hasn't aged a bit.

The current incarnation of Störung emerged in 2011, its core artists being drummer Stephanie Klei and founding member, composer and guitarist Eugenius. A well known and respected live act for three decades, they now create their brand of whirling, fiery music in their studio in collaboration with other artists. The most notable of these collaborators is the powerful, arresting female vocalist on the "Circus Time" single, Sadhana Lila. The single also includes a remix titled, "Circus Time – The Ballroom Remix." Digital re-releases of Störung's "Induction" (recorded 1999) and the 1982 LP "This Is Future" are also slated for release in the coming weeks.

Eugenius, the heart and soul of the band, has very clear motives in co-writing "Circus Time" with Sadhana Lila. He says, "'Circus Time' is about celebration, enjoyment and success. Basically it conveys the message that, yes, we are all doomed, and things can get very rough sometimes, but there is still so much out there that can be done for pleasure and can be done to enjoy."

Like the rest of humanity, Eugenius himself has had his ups and downs, but he's got one thing straight: life's not all pain. "Let's celebrate and have fun with every success and every achievement." He summarizes this philosophy by paraphrasing some of the most boisterous, enervating lyrics from "Circus Time."

"There is no time to sit down," he says. "Bring on the bread and bring on the wine and have some fun!"

The music listening world might do well with bread and wine, but Störung's "Circus Time" is a fantastic way to start on a Friday night.

"Circus Time" by Störung is available online worldwide beginning 10 April 2013.

S. McCauley
Staff Press Release Writer
MondoTunes

The single "Circus Time" is distributed globally by MondoTunes (www.MondoTunes.com) and is available at iTunes for convenient purchase and download. MondoTunes supplies the largest music distribution in the world and provides upstream services for many major labels in search of breakout artists.