Störung was brought to life in 1981. Two young individuals from Europe (Netherlands) namely Eugenius and Arian Brunwin gifted the eighties their unique style of experimental Minimal & Cold Wave, both in various recordings as well as on stage.

Memorable songs originating from 1981 are 'Radio Lines', 'Two Miles' and 'Dreadful Dance'. 'Dreadful Dance' was released with B side 'All Bow' as a 7 inch single on Clogsontronics records in 1981 and became an instant hit in many underground youth clubs.  In 1981 en 1982, Störung toured extensively around Europe and the band gave numerous concerts and radio appearances. In 1982, the band released their first album 'This Is Future' (Clogsontronics / produced by Ton Willekes). Live recordings were made for radio (i.e. VPRO Radionome), television (VPRO Hotel Suburbia) and several recordings were made of live concerts (i.e. live at the Trojan Horse, the Hague). The track 'Empire SX' was released in 1983 on a Clogsontronics compilation album. A song called 'Warschau Pact' introduced the use of conventional drums (toms) vigorously played by Eugenius on stage. In 1983, Ton Willekes produced a track called 'Europe Calls'. With the mastertape being lost, the track was fortunately captured when broadcasted on VPRO radio (Spleen). The band went in the Salisbury Sound studio in 1984 and (re)recorded 'Europe Calls', Woman Of The Dark', 'Fire of Passion' and 'Siberia'. These recordings were never released in the eighties but the band continued to create more material and released its second album 'Inside the Black Box' in 1985. The album contained songs such as 'The Border', 'Circus Time', 'Sharpen the Metal' and it was followed up by a European tour that lasted from 1985 to 1986. The band gave its last concert mid 1986 and recorded two more tracks in that year ('Desert Dance' and 'See the Sun Shine'). After retiring from stage a recording containing a song called 'Wildstorm' and three other tracks that are unfortunately lost and are yet to be found, were produced in 1987. This demo recording wrapped up the eighties for Störung and was named 'the Sewer Age 9'. Plans for the following decade were made but the band officially broke up in 1988. Still during the nineties and the following years, Eugenius continued to play guitar and on a limited basis continued to produce tracks and song material.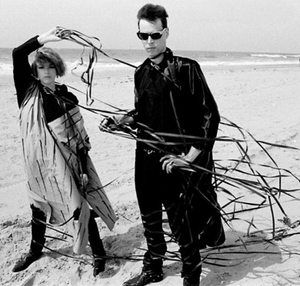 Störung (1984): Arian Brunwin and Eugenius

In 2005, Eugenius got notified of renewed interest in Störung that made him decide to resurrect the heritage of the band. Since then, the classic material has been revisited by various record labels. Clogsontronics released a brain-draining track called 'INDUCTION - the Enochian Remix', written and recorded in 1999 that saw the day of light in 2007. The same year, US based label Minimal Wave released 'Europe Calls' on 7 inch vinyl. The track is classfied by the label as a "minimal dancefloor killer".  In 2008, Combinator Records re-released 'The Art of Combining' which originally is a bootleg of live recordings on audio cassette and Clogsontronics re-released that year the classic 'This Is Future' album on both vinyl and CD in one package.
 
In 2009, Störung (now sometimes without the dots on the 'o') started to make preparations for live appearances and incarnated in a new line up consisting of dedicated musicians for vocals (Noveria), guitars (Eugenius), bass guitar (Giovanni Beck, later replaced by Robowave) and drums (Stephanie Klei). Still containing a flavor of Minimal and Cold Wave, Störung moved into a more heavier 'Industrial' sound delivering a spectacular show on stage. Störung (mark II) showcased live in December 2009 and delivered two other live appearances in 2010. The band recorded several demo tracks with producer Marcus Bodine (Deadcell) to capture the intensity of Störung's pulsing drums and bass guitar sounds layered on top with bombing guitars and blasting vocals. A video for the track 'Are You Gonna Sigh' was released in December 2010. The Störung mark II project ended in 2011.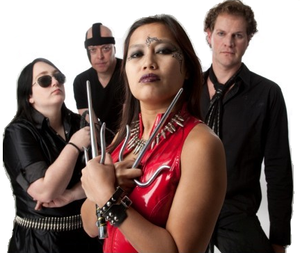 Störung (2010): Stephanie Klei, Eugenius, Noveria and Giovanni Beck
In the thirtieth year of existence (2011), Störung transformed from a band project to a studio project and digitally released a remix of 'Are You Gonna Sigh´ (Pulverised Club Edit). The Störung project, then consisting of Eugenius and Stephanie Klei was able to collaborate with Europe's most talented singer: Sadhana Lila. The collaboration resulted in a final version of 'Circus Time', released in April 2013. The single includes a remix 'Circus Time - the Ballroom Remix´. The same month saw digital re-releases of the 'Induction' CD and of the classic album 'This Is Future'. In June 2013, a minimal, industrial type of dance track called 'Attraction' was released including an extended version and video. Suitable for underground clubbing, the track exposes an enormous amount of sonic energy and became a huge underground hit on internet radio. In April 2014, Störung released the single 'Stop the Illusion! (I & II)'. 
In May 2015, Minimal Wave released a limited edition mixed tape of classic Minimal Wave tracks available from their archive. The audio cassette tape contains the Störung track 'Europe Calls' and was first made available at the Brooklyn Flea Record Fair in NYC on May 14th 2015, with the remaining copies available for sale in limited quantities through the Minimal Wave website.

Limitations that were encountered in collaborating with musicians made Störung introduce Vocaloid's Cyber Diva as their new singer (September 2015). In November 2016, Cyber Diva appears on a remake version of the track 'Are You Gonna Sigh' and on two more tracks called 'Wildstorm' and 'Black the Sun'.

In May 2017, three singles were digitally released through Clogsontronics/Mondotunes: 'Madman's Party' containing 6 tracks taken from the 1985 'Inside the Black Box album, 'Desert Dance' containing two tracks that were recorded in Amsterdam in 1986 and 'Light up the Fire' containing three tracks that were recorded in 2008.
In June 2017, a single was released containing three re-recorded tracks: 'Wildstorm', 'Wildstorm - the Additional Remix' and 'Stepping into the Light'. In 2018, a full album was released named 'Sharpen the Metal'. A Killing Joke cover 'The Wait' was released on the Störung web site in June 2021 .
As from 2021, Störung collaborates with Cyber Doll Morrigan for visuals and promotions.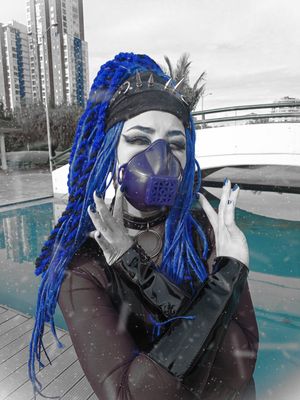 Störung (2021): Cyber Doll Morrigan

What holds for Störung the coming years is to continue unleashing its treasure of musical creativity. Building upon the catalog of recordings is the primary objective. The ultimate goal is a third incarnation live on stage or re-emerging as a complete digital configuration.